Home > Casino > Reel Depth Slots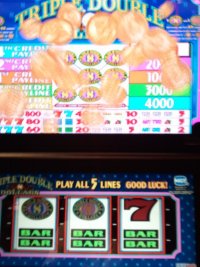 Triple Double Dollars Reel Depth Slot
Reel Depth Slots
IGT, an industry-leader in land based slot machine technology, is responsible for introducing an innovative trend in casino gaming. 3D Reel Depth slot machines are appearing more and more at land casinos. They are proving to be popular with slots players due to their cutting edge technology, which uses two or more layers of LCD screens to create a three-dimensional animation effect without the need for special 3D glasses.
The play field, or reels in this case, isn't made up of traditional reels, as most slots players are already familiar with, but rather computer-generated images on a multi-level display. The overall effect is visually impressive and truly adds an immersive element to gameplay. Read on to learn about some of the games and features.

Article Highlights:
History | Games And Gameplay | Payouts | Tips And Strategy


History
Reel Depth Slots have been around since about fall 2008, debuting at Grand Casino Hinckley and Grand Casino Mille Lacs, both in Minnesota, United States. For a short while thereafter, their distribution was somewhat limited, appearing in small banks of slots at some of the country's larger casinos. Reel Depth Slots were briefly spotted at Detroit's Motor City casino for a couple of months, before being moved to the high stakes lounge, albeit reprogrammed with much higher denominations.
Due to the sophisticated technology, and despite having fewer moving parts than ordinary mechanical slot machines, the Reel Depth games likely cost a bit more to manufacture than traditional slots. Casinos may also be choosing to phase them in gradually as older machines wear out or are due for replacement. All the while, the games themselves have been gaining in popularity with players. More recently, Reel Depth Slots have been appearing at many land casino properties around the United States and in other parts. The newer Aria Casino in Las Vegas, which opened in late 2009, has a large variety of reel depth machines on their casino floor.


Games And Gameplay
In function, the games themselves are much like traditional slot machines. Money or a cash voucher (ticket) is inserted into the bill slot, credits appear on the screen, bet amounts are selected with different buttons, and reels are spun by pressing a button or by pulling a lever. Games come in both three and five reel types, and betting denominations range anywhere from .01 to 25 credits (dollars). The most common base denominations appear to be .01, .02, and .05 credits (dollars) for the five reel games, which allow up to 200 credits per bet, and .25, 1, 5, and 25 credits (dollars) for the three reel games, which allow 1.25, 5, 25, and 125 credits (dollars), respectively, per bet. Jackpots are usually achieved by scoring three (or five) wild symbols on any one of the paylines with the maximum bet, with jackpot sizes varying based upon the different paylines. When a winning combination is achieved with one or more wild signs on a payline, gold coins rain down across the top of the slot's pay table display in an animated sequence (see below).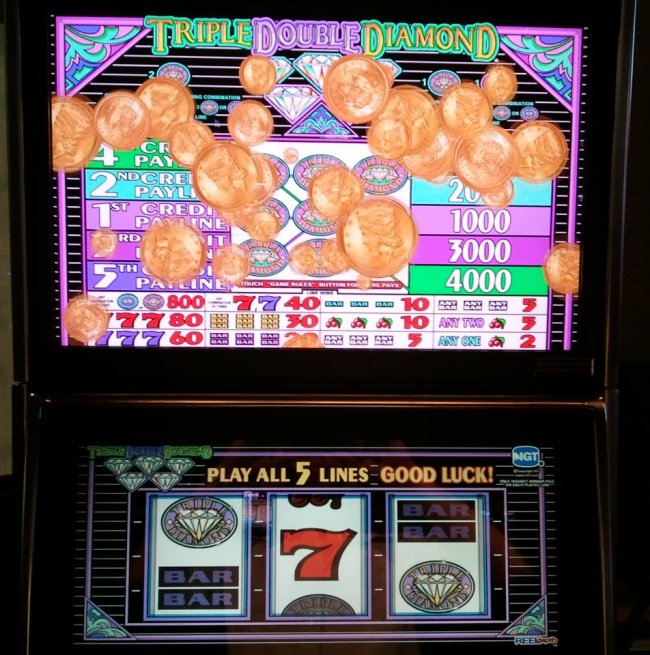 Picture Courtesy: Aria Las Vegas
Two triple diamond wild symbols on the fourth (diagonal) payline completed a three sevens win with a nine times multiplier for a total of 720 coins. Whenever you get a big win at these games, a bell rings and coins rain down on the top screen.
The types of games featured can emulate already-existing slots, like three reel, five-payline Triple Double Diamond (pictured above), Red, White and Blue, and Triple Butterfly Sevens, or they can introduce new games like five reel, 30-payline Jokers Wild and even themed video slots like Indiana Jones Last Crusade.
What sets these slots apart, besides their sharp looking displays, is the option for players to choose between three to five different games on each machine. From any game, a menu screen is only a touch away, via the 'more games' icon. Once pressed, players may choose between several different slots, and then that particular game loads up fairly quickly. This is a convenient option, as a player might not be having a run of luck at one slot, they can easily choose a different game and see if that offers better chances.
It is also worth noting that gameplay on Reel Depth slots can be somewhat faster paced than traditional slots. If you've ever played a reel slot at a land-based casino, and found that you can press the 'spin reels' button faster than the game can keep up, with these newer slots, you will notice that gameplay is a bit faster. The 'spin reels' or 'repeat bet' button responds very quickly. If you hit a sizable win, and don't feel like waiting for the credits meter to count all the way up, simply touch the screen or press the spin button again to get on with your session.
Lastly, another noticeable improvement is the voucher (ticket) reader. It is fast. Have you ever cashed out a slot win only to wait 30, sometimes even 60 sixty seconds or more for your cash voucher to print? Reel Depth slots print it out within seconds of pressing the 'cash out' button. Usually, your ticket will be ready literally in the time it takes you to stand up.


Payouts
How do payout rates for Reel Depth slots compare to traditional reel slots? In a nutshell, they are very much the same. Both machines utilise a random number generator to ensure than every possible combination of symbols may appear on any given spin. Payout rates are usually pre-set by the casino and vary from machine to machine, so it's really up to the player to determine whether or not their current machine is set to be high-paying or not. It is currently unknown whether payout rates may be programmed differently between games on an individual machine, although that may well be the case, considering their versatile nature.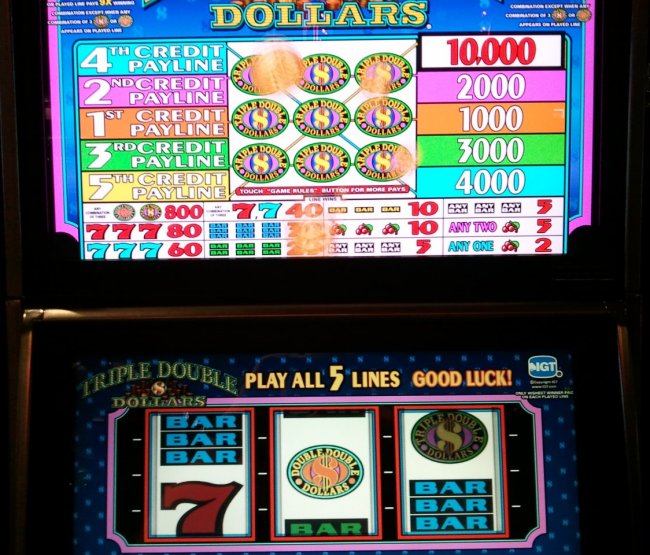 Picture Courtesy: Aria Las Vegas
A double and a triple wild multiplier on payline 5 added up to six times a 777 win for 480 coins. Payline 4 was also a winner with two times a triple bar payout for an additional 60 coins. The win bell sounded, and the raining coins animation was just finishing when this picture was taken.


Tips And Strategy
So should a player approach Reel Depth slots any differently from their mechanical counterparts? Aside from being aware of the slightly speedier gameplay, in a word, no. Basic slots strategy says to move periodically from game to game, until you find a machine that is set to pay out at a high percentage. The same principle applies to Reel Depth slots. Decide on a set amount that you will invest - or play - on a particular game, say 40 credits (dollars) for the .25 credit machines, or 200 credits (dollars) for the 1 credit machines. During gameplay, mentally note whether you are getting many decent payouts. If your win rate noticeably slows, stop playing and choose a different machine - or game within that machine. During our evaluation, the algorithms, like those on conventional slots, appear to be programmed to capture more money the longer one plays. Be aware of what kind of return you are getting the longer you play. While the sights and sounds are quite entertaining, keep in mind that your ultimate goal should be to win money.
If luck comes your way and you happen to hit a major jackpot, by all means take a break. You don't have to end your overall session. Maybe head to the bar or grab a bite to eat. Either way, it's a good idea to take a moment to enjoy a win and that allows time to map out the remainder of your session. Stopping play can be a difficult thing to do when you are winning, but that will help preserve your winnings, and then you can play again another day.

Try a leading online casino with an excellent variety of slots games.
Advertisement