City Center And Aria Resort
Learn about the Las Vegas City Center and Aria Resort with a personal review of the hotel's rooms, restaurants, casino, games, lounges, sportsbook, shopping, and more.

Article Highlights:
First Impressions / Checking In | Guest Rooms | Casino | Lounges & Amenities
Blackjack Marathon | Dinner At Union Lounge | The Buffet & Gift Shop
Crystals Shopping Center | Sportsbook | Late Night Dining | Nightclubs / Winding Down
Slots Battle | Checking Out | Trip Summary


First Impressions / Checking In
Getting back to my room at the Monte Carlo around 2:30am after a long day, I made sure to phone the front desk to request late check out. That gave me until noon the next day to sleep in and get all my belongings packed. I ended up needing every bit of that time, as I brought many more items than a five day trip warranted, and ended up getting to the desk around 12:15pm. Checkout went smoothly and the clerk behind the desk said not to worry about staying fifteen minutes later than scheduled - there would be no extra fees.
I queued up to the hotel's taxi stand, and happily broke the porter's rhythm of asking people: "Going to the airport?" It wasn't time for me to leave town yet... I was going next door to Aria! I volunteered that I would've just walked over - as the hotel has a tram system (pictured left) that runs between the two properties - but who knew exactly where that might put me, and my two bags were heavy.
My driver took the shortest route possible, and the fare was around $6 ($10 with tip). I disembarked and proceeded to the queue for the baggage check. After ten minutes in line, I made it inside, where maybe sixty or more fellow hotel guests were already waiting to check in. The lobby area was very posh, in keeping with the new and modern feel of the resort. High ceilings, wood support columns and glass windows flanked the check-in area. The desk had about a dozen clerks and there was a line for each. I'm not sure if I picked the slowest moving one, but I know I stood there for a good half hour. The three chaps in front of me took at least fifteen minutes, asking lots of questions. So by the time I got to the desk, I went through the procedure without delay. No, I didn't have any questions about the property. No, I didn't require any additional services, etc. Finally, I had my room card and could begin to get a lay of the place.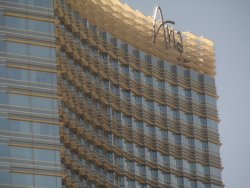 Getting from the front desk to the room elevators required a short walk through the casino at Aria. The casino was good sized, and like most other modern properties, the central focus of the ground floor. Between the lobby and the elevators, I noticed a couple of conveniently-placed lounges and made a note to check them out later. A nice perk at Aria is the pair of complimentary drink tickets all guests receive upon check-in. I would later discover that obtaining a free drink in the casino is about as easy as taking breath of air, but for the time being, I was still impressed by the gesture. I showed my room card to the security gentleman in a three piece suit and found my bank of elevators. Another nice thing about the hotel is there are lots of elevators; six for floors 1-15, six more for floors 16-32, etc. I think there are twenty-four in all, so that means you rarely have to wait more than a minute to catch a ride.


Guest Rooms

The hallways leading to the guest rooms were dimly lit and plush with wood grain doors and well-padded carpets. Since I'd only booked my trip a week in advance, my room did not overlook the front of the property facing the strip, which might offer the most interesting views. However, I was content with having another pool view room - which actually looked directly across from where I'd stayed at the Monte Carlo for the first three nights.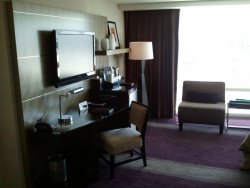 Starting at $129 per night, the rooms at Aria can't be beat. They are new and stylish, and have a lot of nice touches like a writing desk, wall-mounted tv, huge pair of closet wardrobes, and a very comfortable king size bed. It wasn't that long ago that rooms like this at the Wynn were going for $300 and up per night. Rooms in Las Vegas are a good deal right now.
Within about ten minutes of getting to my room, the valet arrived and hoisted my bags onto the luggage racks for unpacking. He was very enthusiastic and more than happy to offer tips or answer questions I had about the resort. At this point I was just happy to have the whole moving from one place to the other process behind me, so I handed him a ten note, thanked him for dropping off the bags, and said I'd just have a walk around to explore later on.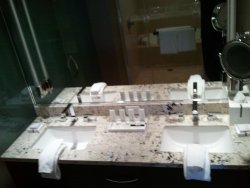 It's worth noting that the bathrooms in Aria guest rooms are some of the best I've seen - nicer than Mandalay Bay's and equally as posh as the Wynn's (I have not yet been to Encore). You get a marble counter vanity with two sinks, a separate glass door shower/whirlpool tub enclosure, and a frosted glass water closet. And the lighting is up-to-date, which scores major points in my book.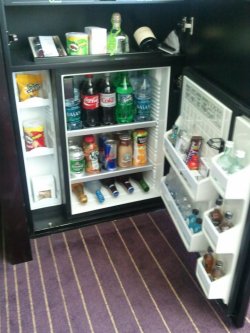 I stayed in the room for a couple hours to unwind and to catch up on the computer. Aria has a wireless network that runs throughout the hotel, and it offered fast connectivity. One tip I will suggest for anyone visiting the resort is to bring cables. What kind of cables? Namely anything you might need to plug in your laptop, iPod or mp3 player because there is a convenient panel on one side of the desk which allows you to plug your devices directly into the tv and control them with the remote and on-screen interface. If only I'd thought to bring a spare HDMI or USB cable. If you absolutely have to have them, Aria supplies a media accessory kit that sits atop the room's mini bar which is available for purchase for $20.
The mini bar, itself, is well stocked with everything you'd expect to find and a few things you might not. You have drinks like water and sodas, Red Bull, V-8, Starbucks Frappucino, a couple types of beer, small bottles of Patron tequila and Grey Goose vodka, some mini bottles of rum, bourbon, and scotch, plus snack type items like Pringles, chocolates, and even a Snickers bar ($3.50). There are more items on a pressure-sensitive tray atop the cabinet, which I believe are purchased once they've been removed for a certain period of time. While tempted to indulge, I decided to head down to one of the casino lounges to take advantage of the complimentary drink vouchers that came in my welcome package.




Aria Casino
My first stop was Bar Moderno, which sits just off the main casino floor. Be advised that the complimentary drink tickets you get do not include premium liquor (as expected) so I made do with a house vodka and cranberry. It's the kind of drink where it doesn't matter as much if the liquor is well brand or premium because the mixer kind of dominates the taste. The lounge was unbusy, as it was only around 3:00pm. Too early for a drink? Well, this is Vegas - you be the judge. I had a seat at a table that provided a nice vantage point of the casino floor, and people watched for twenty minutes or so until it was time to move on.
The casino at Aria was large. It had marble floor pathways leading down the middle and around the perimeter. Doing one pass around might take someone a good ten minutes at a casual pace. I'd recommend doing just that because it gives you a feel for the place. There were hundreds of video and reel slot machines, featuring some of the newer 3d reel depth slots. Standard table games like blackjack, roulette, three card poker, and the like lined the center walkway with double banks on each side. Craps tables ran perpendicular to the rest of the table games along the casino's central corridor. A salon privé - or high rollers suite - with baccarat and other high limit games sat just opposite the edge near the center of the casino. Piece mail amber and orange tinted glass panels lined the walls with tiny openings here and there that offered just a glimpse into the world of high stakes gambling for passers-by.


Lounges And Amenities
Besides some interesting lounges, such as The Deuce and Bar Moderno, there were a couple restaurants that encircled the casino. A patisserie with sandwiches, baked goods, and a whole assortment of treats including house-made gelattos, sits right off the casino floor next to the guest elevators. Farther down was the Skybox Sports Bar & Grill, where one may also redeem their free drink vouchers. It was right down the hall from the Aria Sportsbook, making it a convenient option for sports bettors to grab a quick bite when watching a game. The sportsbook itself was very well assembled. There were high tables and stools for casual game viewing, and a separate section for horse racing. The icing on the cake was probably the lounge area which featured ultra-plush furniture like oversized chairs and couches, all resting comfortably in front of a high-definition jumbo screen that must have been at least twenty feet wide. I had the pleasure of watching game 3 of the NBA Western Conference finals there on Friday night and the atmosphere was lively.


Blackjack Marathon
Besides the conference and sightseeing, the other reason I came to Las Vegas was to gamble. Since I had basically the rest of the day, it seemed like a good opportunity to get in some quality blackjack sessions. At 3pm, Aria had a host of 15 dollar tables available - perfect for my style of play. I cozied up to one, got my chips and proceeded to play. I ended up playing so many sessions that I don't exactly recall the particulars of each, however I know I only lost $100 once, broke even once, and won money every other time - about $800 overall. Despite each table having a shuffle machine, the cards coming out were hot more often than not. I cashed in several purple ($500) chips during my stay.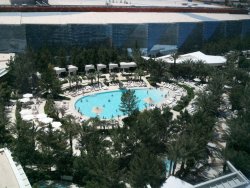 My company at the tables ran the gamut... everything from Southern California party-goers coming back from a festive day at the pool (pictured right), to well-polished couples in suits and evening gowns having some fun after a night at a show, to a first-time player getting coaching tips from his dad. All in all, it was a good mix of people. What surprised me - almost shocked - really, was how badly some people were playing. Most of them had the basic concept of stand on 17 or higher, and to always split aces, but then some people looked like they didn't have a clue how to play and were literally guessing. One friendly lady kept splitting her face cards - up to 5 times on one hand! I think she ended up winning three out of the five splits, purely by luck. Another gentleman who only won half as much as he should have on account of not doubling down was told by the dealer that he should've doubled and he just looked dumbfounded. I handed him one of my cards and said to check out the blackjack frequently asked questions at my website.
I took liberal advantage of the complimentary drinks while playing. Ordinarily, I would recommend against consuming alcohol during play, however after three days in town my tolerance was high enough, and my blackjack skill level sufficient that one or two drinks per hour was not going to affect my gameplay. It's actually a welcome perk for playing, considering the same Ketel One or Grey Goose costs $12-14 in one of the casino bars. I'm not sure how much I racked up in comped drinks during my trip, but it was certainly substantial. Since I was winning more often than not, and being a former hospitality employee, myself, I made sure to tip often both the wait staff and dealers, and even gave something for the cage personnel a couple times. Possibly due to my better-than-usual luck, I ended up leaving with a very favorable impression of Aria Casino's table games - or at least of their blackjack, since that was my game of choice.


Dinner At Union Lounge

In between blackjack sessions, I took breaks in the lounges, chatted with fellow guests, and also happened onto an excellent restaurant that I would highly recommend. On one side of the casino floor is Union Restaurant & Lounge - another beautiful creation by the Light Group. They feature traditional American fare with a gourmet spin. I had the pleasure of dining there later in the evening, and it was exquisite. The wait staff was exceptionally welcoming and attentive - not to mention easy on the eyes. My meal there was worth every cent of the $85 check.
With legs still weary from the preceding day's walk, I chose to turn in early - since midnight can probably be considered early by Las Vegas standards. I didn't have any real plans for the next day aside from trying the buffet and watching Game 3 of the playoffs.


The Buffet And Gift Shop
On my second day at Aria and final day of the trip, I started off with a meal at the buffet. The volume of comp points I'd racked up paid for my meal with a quick swipe of the card. The decor was consistently modern and inviting; the dining room was a vast space, sectioned off into different seating areas by steps and levels. Part of the room overlooked Aria's pool and courtyards. I didn't get a window seat, but that was fine because it put me closer to the food lines and I made sure to bring my appetite. I helped myself to 2½ plates worth of chicken tamales, steamed vegetables, cocktail shrimp, fresh crab legs, and sliced meats. I figured with all the walking I'd been doing, why not indulge? Presented pre-sliced and on ice, the crab legs were outstanding.
After brunch, I made a stop by the casino gift shop which had a big variety of reasonably-priced souvenirs and a section with all kinds of beverages guests could take back to their rooms. Most of it was pretty much what you'd expect to find at gift shop, although there were some interesting items. I picked out something for a friend back home and went on my way.


Crystals Shopping Center
Seeking once again to venture beyond the confines of the casino, I entered the Crystals shopping district which is next door to Aria; also part of the City Center complex. It is a very clean looking and bright, a multi-level center flush with high-end retailers like Prada, Yves Saint-Laurent, and Ermenegildo Zegna. It was fun walking around the shops, although it was strictly window shopping. I looked forward to a time when I might partake in a shopping excursion there, possibly one day, if and when I make it to high roller status. Also, I packed heavy so there was absolutely no room in my bags for an extra pair of shoes or another suit coat. As I strolled, the stores were mostly empty and the salespeople looked alternately bored or eager for customers. Perhaps it was the time of day. The stores likely don't need to rack up many sales given the quality of the items they're selling.
Crystals features a couple restaurants, like Wolfgang Puck's Pizzeria and a traditional brew pub. There were also a couple of lounge/restaurants, one of which is open late for the clubbing crowd. A highlight of the center was its architecture with sweeping columns and skylights offering lots of natural light. The multiple levels made for some interesting sight lines. During my tour, I located the tram station that runs to the Monte Carlo. It was quite a hike from the front desk so that made me glad I'd taken a taxi.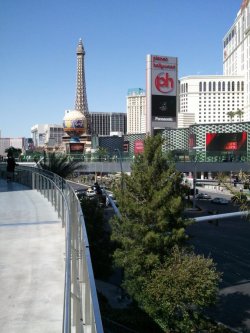 I walked the entire concourse at Crystals and exited on Las Vegas Boulevard, intending to go on another serious walk. After all, I skipped Bellagio and didn't even play at Caesar's a couple days earlier. I made it about halfway across the pedestrian bridge to Planet Hollywood before deciding I definitely did not have the right shoes for the job. The 95 degree sun was the clincher and I turned around. I headed back to the casino to trade in my dress shoes for a more comfortable pair and to partake in yet another round of blackjack.
When playing blackjack, you never know what you're going to get when you sit down at a table. At this session, it was another table half full of rookies, plus a Spanish gentleman who had as much cheerful enthusiasm as I'd ever encountered. The bloke was putting dollar chips next to every player's stake as side bets for the dealer and chanting "now, everybody wins!" That gave the rest of us a laugh and fortunately we were all doing pretty well. The pitboss stopped by a couple times, once to deny the gentleman's request for a complimentary pack of cigarettes; another time to ask the exuberant fellow to be careful not to spill his highball. The rookie players eventually succumbed to bad cards or bad strategy, and one of them was mildly agitated that I was doing so well, which I attributed to luck. I'd almost doubled up my stake again, and that was a good time to depart.


Aria Sportsbook
Game three of the NBA Western Conference semi-finals started around 7:30, so I headed over to the sportsbook early to make sure I got a good seat. I'd already placed my wager earlier in the day in case I didn't make back in time for tip-off. I asked the clerk how their drink ticket system worked, since I was planning on having a couple of beers during the game. Despite taking my wager earlier in the day, he didn't remember me and seemed annoyed by my question, saying: "you gotta BET to get drink tickets." Really? What did he think I was doing there? Humbly humouring him, I showed that I did in fact have a wager. Ultimately, my $300 bet earned me two free drinks. That wasn't a big deal as I'd been drinking during blackjack and quite a bit the previous day. At that point, I was there to watch some basketball. I found a good seat, and took in what turned out to be an absolute nail-biter. My bet almost miraculously ended up covering the spread and I headed over to the desk to collect my winnings. That win made it a perfect seven-for-seven in sports betting for the trip. Not bad. I only had one beer during the game so I found an older gentleman who was betting horse racing, and he was happy to accept my extra drink ticket. I figured it was only appropriate considering I'd found one at the Wynn sportsbook a couple days earlier. Pay it forward.


Late Night Dining

After the sportsbook, I thought about going back to the tables, but wasn't feeling like sitting in one spot again after having just watched a three-hour basketball match. So I played a quick round of slots before heading up to the room to change. Wearing one of my suits (it was a Friday night) I went looking for a restaurant that was still serving dinner at 11:00pm. Unfortunately, I belatedly learned that last call for dinner service is 10:30 at nearly every fine eatery on the premises. This was disappointing because I was really looking forward to trying the cedar plank salmon at American Fish - located on the second floor, and a quick stroll from the elevators. A word to the wise: dinner service is from 5:30-10:30pm and that's it. If you want to eat later, you have three options:
a small appetizer menu at the pub restaurant just inside Crystals.


the 24-hour restaurant - which also has a smaller menu after 11:00pm.


a fabulous Thai-inspired Asian restaurant called Lemongrass that lies just beyond the baccarat parlour.

Thank heavens something decent was still open. Lemongrass was a more-than-suitable alternative to American Fish. I had an excellent salmon satay followed by a bean curd stir fry accompanied by a couple ginger liqueur cocktails. The atmosphere was both lively and relaxing. There was almost a full seating, suggesting other people like me were looking for some late evening fare.


Winding Down
I gave some thought to hitting the casino's main nightclub, Haze, before I left. It was recommended to me by my server the evening before at Union. Like Union, Haze was also designed by the Light Group, so that meant it was probably quite posh. By that point, I was somewhat tired of drinking and planned to get a little more casino time in before calling it a night. After all, weekend room prices were about 2½ times the weekday rate, and I figured I would get more value out of my stay if I gave up some sleep in favor of additional resort time. After a few days in Vegas, it seemed perfectly logical.


Slots Battle
I embarked upon a four-hour battle with the slot machines. I played the newer reel depth slots. I played the progressives. I played the quarter, dollar and five dollar machines, but no video slots. I don't care for the video slots as much at land casinos because the betting formats are so varied. They have a lot of buttons and sometimes it's challenging to mix up my bets how I like. In terms of video slots, I'm partial to playing the video slots found at online casinos.
My mini-marathon earned me plenty of comp points. I ended up rising a level on MGM's rewards program, which helps you earn points and rewards at a higher rate. However, in the end I found myself having given up about $400. I hit a few smaller payouts of around $100 or $120, but gave that back as I was going for the big score. Despite playing literally a couple thousand spins at the reels that night, the big win proved to be elusive.




Checking Out
By about 4:00 am, I was ready to turn in because I needed to wake up at 8:00 in order to allow time to check out and get to the airport. Fortunately, and likely because I did not indulge in a big night of drinking, I was able to function on four hours of sleep. In line at the front desk the next morning, I was happy to participate in the casino's express check out. A hotel clerk with a tablet computer approached, and with a few quick button presses and a signature, I was on my way to the taxi queue.


Trip Summary
Looking back, I packed a decent amount of fun into a relatively short trip, especially considering two days were dedicated to business. There were no shows this time, no exotic dancers, and no staying up until sunrise. It was definitely a different experience than previous trips, like the ones where I spent most of my time in nightclubs, 24-hour cafes, and riding in taxis. I did some networking and learned about the state of the industry, got a first-hand look at the new and improved skyline of the strip, made it to several properties I'd never been to before, and had some top notch cuisine at a couple of beautiful restaurants. I won money at sports and blackjack and lost at the slots. (I suppose that can be expected.) I re-purposed a sizable portion of my winnings and stimulated the local economy by tipping generously. And, I was happy that my play allowed for at least half my meals to be comped. Seeing the sights made me want to return once again for a longer stay and purely for pleasure. Perhaps I'll talk some friends into going next time. Las Vegas in 2011 appears to be alive and kicking. Until next time...

Las Vegas:
<< previous article | Main Page | next article >>