Monte Carlo Resort And Casino
Examine one of the Las Vegas strip's premier casino properties with a detailed review of its accommodations, services, and facilities.

Article Highlights:
First Impressions | Guest Rooms | Casino | Sportsbook | Restaurants | Pool | Comps


First Impressions
I arrived at the Monte Carlo early in the afternoon the day before the conference. This was my first time visiting the property, which originally opened in 1996 on the site of the former Desert Rose Motel, and my impressions were generally favorable. Entering the check-in area, I noticed it was very similar to the reception area at TI (Treasure Island), a former MGM-Mirage property a couple miles up the strip. There were marble floors, and windows behind the desk, showing some lush greenery from the pool area. The staff was polite and helpful in answering a couple basic questions.





Guest Rooms
With the hotel's last major renovation, I heard the top floor had been converted to all suites, so I asked the front desk about a possible room upgrade, but they informed me that they were all taken - possibly due to the conference. I ended up with a high-floor room that was overlooking the pool. As far as Las Vegas rooms go, it was very average... nothing fancy really, except maybe for the 40" flat panel tv, which was nice. The beds were comfortable, and provided a welcome respite after a long day of travel. Since I was on a solo trip, the extra bed served as a gathering spot for my wardrobe. Five years earlier, I stayed at TI and the rooms there, while smaller, were noticeably more upscale - particularly the beds.
There were two major issues I encountered that will likely make me choose a different hotel on the next trip:
Shared room doors. If you've ever stayed at a common roadside motel, you are probably intimately familiar with the doors on the inside of rooms that can be opened for extra or shared space, if traveling with another party. Unfortunately, when traveling alone, you usually aren't interested in knowing what's going on in the next room. At the Monte Carlo, I could hear every word next door. This made me want to go someplace else to make phone calls. Thankfully, I was not in the room much, and when the guests next door were there at the same time, they kept their tv up so I heard less of their conversation. I'm not sure if all the rooms have this 'feature' so you might want to ask about it beforehand if booking a stay.


Fluorescent lights in the bathroom. This might seem like a small gripe, but it's my humble opinion that even the most beautiful of people look frightful under fluorescent lighting. If you're planning to go out for a night on the town, why would you want to get ready under the drone and glare of these outdated fixtures that seem to highlight every wrinkle and burst eye capilary? Seriously, Monte Carlo, how about some modern halogen or LED fixtures? The bathrooms at Mandalay Bay (and Wynn and Aria and even TI) were much nicer.


Casino

Inside the resort, itself, I was pleasantly surprised. The casino floor was decent sized and had a good game variety. The decor seemed modern enough - not over the top, but updated possibly with the renovation a few years back. In between conference sessions, meals, and a trip to the pool, I spent quite a bit of time at the blackjack tables. I noticed they featured lower-than-usual minimums. No matter what time of day, there were always at least two or three ten dollar tables, which is always welcome for low stakes players. When I play, I like to vary my bets, usually anywhere from ten or twenty credits on up to fifty if I'm doing well. The blackjack games all featured real shuffles, meaning the dealer physically mixes up the cards at the end of a shoe, as opposed to the continuous shuffle machines which are all too common these days. Players also still get to pick where they want to insert the cut card. The latter practice doesn't really offer any advantage for players, as the dealer ultimately decides how deep in the shoe the cut card ends up - usually 60-80% penetration from what I noticed. However, true shuffle, as opposed to the continuous method, is supposed to yield a slight advantage for players. Without it, counting cards would be infinitely more difficult. Overall, the blackjack tables at the Monte Carlo offered a very even game. The dealers were friendly, and I did all right.

I did not fare so well at the Monte Carlo's slots. One Wheel Of Fortune progressive dollar slot sucked up $100 without a single payout. There is probably nothing in gambling I hate more than a stingy slot machine! Playing down to zero naturally went against my slot strategy of leaving a non-paying machine before too much time or bankroll has past, but it was late in my day and every player has a weak moment on occasion. I chalked it up as a loss and reminded myself that I was still ahead from my blackjack winnings.


Sportsbook

Being a basketball fan, I decided to check out the Monte Carlo's sportsbook one evening. The accommodations are decent, pretty standard really with big boards for all the sports odds, a large bank of televisions on one end and an oversized screen in the middle. Placing bets was easy and the staff was friendly. I'd bet in various Las Vegas sportsbooks on plenty of occasions before, but had never attempted to partake in the complimentary beverages they offer for bettors. Being a complete novice at this, I was under the mistaken assumption that drinks were dispensed similarly to how they are in the casino - like as long as one is playing, they are welcome to drink as much as they like. Such is not the case for sports betting. Possibly due to lower overall margins, or the fact that for many bettors, betting is frequently concluded once a wager is placed, I discovered that there is a set minimum for complimentary drinks at the Monte Carlo, and a ticket system. A $100 bet earned you one drink ticket. A $200 bet, two tickets and so on. I might add that liquor drinks only included well call brands, so no premium spirits with the tickets - also unlike the casino system. I was suddenly envious of the high(er) rolling sports bettors who wouldn't blink at putting down a dime ($1000) or more and getting all the drinks they could handle. But then again, this was Vegas. Getting a drink anyplace wasn't really an issue.
So I chatted with a Greek gentleman from Wisconsin, and a German bloke from Germany who said he was a Lakers fan - unless they were playing the Mavericks, whereby his fandom for Dirk Nowitzki would supercede his loyalty to LA - or at least that was what I got from his somewhat broken English. I tipped back a few drinks, watched the game, cashed in my tickets and called it a day. The conference had one more day to go and I wanted to get some rest before the 9:00 am session.


Restaurants & The Pub

The Monte Carlo's renovations included several new theme restaurants. Diablo's Cantina features a party atmosphere and overlooks the strip, Brand is an upscale steakhouse located just off the main casino floor, and The Pub, as you might expect, is a general bar type of restaurant boasting some 200 beers on tap. I stopped in for dinner one evening after the conference and the scene was bustling. There were plenty of seats at the bar, which was long and ran almost the length of the space. Service was attentive and friendly. I received a different entree salad than what I ordered, and that was quickly remedied. If I had to nit pick, I'd say I prefer freshly grilled chicken on my salad as opposed to the grilled then chilled variety, which was obviously prepared earlier in the day. Also, a bit odd were the restrooms, which were not actually located in the restaurant, but outside the entrance down a corridor and then through a hallway. If someone had downed half a dozen pints, navigating this course could prove confusing. For a restaurant that specialises in filling patrons up with beer, you would think there would be easily accessible restrooms. Apparently, during the redesign process, a decision had to be made whether it was better to have on-site restrooms or 200 kegs instead of 150. I don't totally agree with the end result, although the Newcastle Ale and Spaten lager on tap were certainly appreciated.


Pool

In my several trips to Las Vegas, all of the other hotels I've stayed at, possibly with the exception of the Riviera, offered nicer rooms. But, as I was saying, I didn't spend that much time in the room. Despite not having a strip-view room or a slightly more upscale suite at the top of the hotel, I did get a decent view of the pool, which beckoned me to visit each morning as I was getting ready for the conference.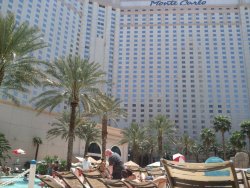 I was only at the hotel for three nights, so I made sure to head down for some relaxation in the Nevada sun a minimum of one afternoon. A possible highlight of the resort, the atmosphere at the pool was simultaneously lively and refined. There was no hoard of wiley children running loose like you might find at more family-targeted resorts like Excalibur or Circus Circus. A deejay was on hand, playing a big variety of music from pop to modern rock to hip-hop to latin house and everything in between. Overall, the crowd seemed to be attractive with a mix of toned young tourists to older 50 and 60 somethings not minding to let it all hang out. People were generally having a good time and living up to the resort's motto of "unpretentious luxury".



Meals & Comps

Having racked up some comp points previously from other MGM properties, I stopped by the M-Life rewards program desk at the casino to see if I had earned any food comps. I was a little surprised when they said I had about $60 in meal credits and another $30-$40 in freeplay accumulated. That was good news because I was hungry and hadn't hit the hotel's buffet yet, which is almost mandatory during any visit to a resort. The buffet can be a sort of standard by which casino resorts may be judged.

It was around lunchtime, and the buffet had a mix of breakfast and lunch items. I opted mainly for breakfast food after having a very light meal earlier in the day. Unlike usual, one single plate did the trick, and despite being comprised mainly of greasy breakfast food, I was going to need this for the rest of the day's activities.

Las Vegas:
<< previous article | Main Page | next article: Las Vegas Strip Walking Tour >>