Home > Las Vegas > 2011 iGaming Conference

2011 iGaming North America Conference
Get a snapsot of the 2011 conference, including insight into future legislation and regulation of the U.S. online gambling market.

Article Highlights:


iGaming North America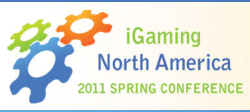 In May 2011, Fast Odds visited the Monte Carlo Resort and Casino in Las Vegas for the inaugural iGaming North America conference. About 500 conference-goers were on hand, and a number of key panelists gave talks about industry-related topics such as the possible future regulation of the US market, and what that means to operators. Attendees were wide-ranging; everyone from casual investors looking to potentially enter the market, to overseas regulators already engaged in ensuring fairness for players, to current casino companies both big and small all looking to get a piece of the lucrative US market. As a portal website owner who is merely interested in the gambling industry in general, I was definitely a minority amongst attendees, however I did find a few other site owners and made sure to say "hello".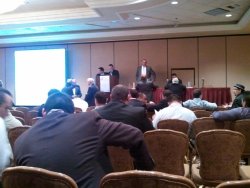 In a nutshell, it sounded like while inevitable, online gambling regulation in the United States was still at least a few years away. Many legal issues needed to be worked out on both a federal and state-by-state level. Most likely, there would eventually be a licensing body, possibly based in Las Vegas, to grant licenses to operators wishing to enter the market. Safeguards, such as background checks, would probably be as stringent as those required to become a land-based casino operator, if not more so. For players, this is both good news and bad news. It's good news in that the US may finally be looking at establishing the legal framework to ensure only honest and reputable companies are allowed to offer online gambling to its residents. However, some uncertain issues also arise, namely whether the biggest land-based casino companies might somehow be shown favoritism compared to smaller, regional casinos and also versus overseas operators and long-standing online gambling companies. We were assured that many of the issues yet to be addressed may be a bit speculative at the moment, so only time will tell how things play out.
The president and CEO of the Monte Carlo gave some brief opening remarks, talking about the challenges the Las Vegas market has faced in light of the economic recession, and also how his particular casino resort was recently charged with a re-branding effort to stay competitive with other strip properties, all under his watch.

Las Vegas:
<< previous article | Main Page | next article: Monte Carlo Resort & Casino >>