Sports Betting Terms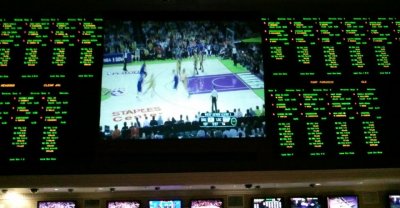 the sportsbook at the Monte Carlo Las Vegas
If you are new to sports wagering or simply looking to learn more about certain phrases and terminology, here you will find some common sports betting terms and definitions.

Jump To A Term By Letter:
A | B | C | D | E | F | H | J | L

M | N | O | P | R | S | T | V | W


Action
A wager of any kind.

ATS
'Against the spread' refers to a team or player's usually recent or longer history (record) of covering the odds (spread bet) when listed as favorite or underdog. Example: the Grizzlies are 7-1 ATS in their last 8 after scoring 100+ points in their previous game.

Book
An establishment that accepts wagers on the outcome of horse racing and sporting events. Also commonly referred to as a bookie (person), bookmaker or sportsbook.

Bankroll
Your available gambling money.

Buy Points
Buy Points means that you can move the point spread so that you give away fewer points with the favorite or get more points with the underdog, for both american football and basketball. To do this you must pay an extra 10% for each ½ point you buy in your favor. For NFL football and NCAA football, you would pay an additional 15% to buy on or off of 3 points - also know as Key Points. And if you buy through 3 points, you would pay an additional 20%. NOTE: There are usually no Key Points for basketball. You would pay a flat 10% for each 1/2 point you buy. An example of how to buy off of 3 points: the Baltimore Ravens (-3) are 3 point favorites. To buy 1/2 point and make them a 2.5 point favorite, you would need to lay 125 to win 100.

Buy Point Chart (Football Key Points)

| | |
| --- | --- |
| Buy 1/2 point to 3 | 100/125 |
| Buy 1/2 point off 3 | 100/125 |
| Buy 1 point to 3 | 100/135 |
| Buy 1 point off 3 | 100/135 |
| Buy 1/2 point any other | 100/120 |
| Buy 1 point any other | 100/130 |
Cover
To bet the spread by the required number of points. If such occurs you have "covered the spread".

Dog
The underdog in any betting proposition.

East Coast Line
Mainly used in hockey, which has a split-goal line e.g. - Philadelphia Flyers (1 - 1 ½) favorite over the LA Kings as opposed to goal spread plus moneyline (-1/2 -180).

Exotic Wager
Any bet other than a straight bet, i.e., parlays, teasers, if bets, reverses, round robin, round robin box reverses, etc.

Futures
Odds posted on the winners of various major sport championships in advance of the event, including the Super Bowl for NFL Football, the World Series for Major League Baseball, the Stanley Cup for NHL Hockey, the NBA Championship for NBA Basketball, and the World Cup for international soccer betting.

Handle
The sum of all wagers collected for a particular event or over a specific time period by a bookmaker.

Hedging
Placing bets on the opposite side in order to cut losses or guarantee winning a minimal amount of money. (also see 'middling')

Holding Your Own
Neither winning or losing, just breaking even.

Hook
A half point added to football and basketball betting lines.

Juice
Another name for vigorish, or the tax that a bookmaker charges for each wager. Some books may offer 'no juice' or free sports betting offers as incentives for potential bettors to join their company.

Line
The listed odds on a game (points or money line).

Lock
Easy winner, can not lose.

Longshot
A team or horse that is unlikely to win.

Middles (or Middling)
To win both sides of the same betting proposition; betting the favorite team at -1.5 with one bookmaker and then taking +3.5 with another bookmaker; the game ends up with the favorite winning by exactly 3 points, you have then "middled the game".

Money Line
A moneyline is offered when no handicap is given, such as a point spread or run line, and the odds are not therefore fixed. Payouts are then based on true odds rather than fixed odds. The favorite and underdog are given odds to win a game or fight.
The minus sign (e.g.-130) always indicates the favorite and the amount you must bet to win 100. The plus sign (e.g.+110) always indicates the underdog and the amount you win for every 100 bet. Therefore based on the above moneyline, you bet 130 to win 100 on the favorite. For the underdog, you win 110 for every 100 bet.

Newspaper Line
The betting line which quite often appears in the daily newspapers. The lines are only approximate and are sometimes inaccurate and misleading. We recommend browsing a sports odds comparison for the most up-to-date odds in online sports betting.

Odds On Favorite
A horse, team, or individual so favored by the public that the odds are less than even.

Official Line
The line that the bookmaker uses for wagering purposes. The line which comes from Las Vegas is quite often referred to as the official line; however, the line that your bookie offers you is actually your "official line".

Overplay
An advantage for the bettor in which the price on a given wager is greater than the real probability of its success.

Over
A wager that the total combined score by two teams will be more than the total posted by the sportsbook.

Parlay
A multi-part bet, usually involving three or more teams, in which each team in must win or the parlay loses. Payouts for parlay bets are are incrementally higher than for single wagers.

Parlay Cards
Wagers on a minimum of 3 and up to 15 propositions; the more you pick, the higher the payoff.

Pick
Occasionally, there will be no favorite on a game. In this instance the game is said to be a pick and you can have a bet of 10/11 (bet 110 to win 100) on either team.

Pointspread
The pointspread - also called "the line" - is used as a margin to handicap the favorite team. The oddsmaker - also called the handicapper - "gives" points (or goals) to the underdog - for betting purposes only. The bettor must take either the favorite or the underdog. The favorite is always indicated by a minus sign (e.g. -8.5) and the underdog by a plus sign (e.g.+8.5). For betting purposes, the outcome of the game is determined by taking the actual game score and finding the difference between the scores of the two teams playing (called the pointspread or just the "spread").
For example - the Detroit Lions are 8 point favorites over the New York Giants (an 8 point spread shown as -8 beside Detroit on our NFL lines page). If the final score is Detroit 20, New York 13, then the actual game score "spread" is 7 points (20 minus 13). In our example, if you took New York (called the "dog"), you would win the bet since Detroit had to win by 9 points or more to "cover the spread". Detroit needed 2 more points to "cover" since if the game landed right on the "spread" of 8 points it would be called a "push" (similar in concept to a tie in Moneyline wagering, which is also called a push) and it would be "no action" (no bet and money held in your account to cover the wager is released back into your available balance). If the "spread" is put in at a half point (e.g. -8.5 for the favorite Detroit) by the sportsbook handicappers then there can be no "push". In this case, there is "action" at any final game score pointspread. In a pointspread, you must wager 11 to win 10 (21 is returned to the winner). 10/11 is the standard for pointspread bets on most sports.

Post Time
The scheduled starting time.

Proposition Bet
A wager on a particular aspect of the game such as how many field goals will be made.

Puckline
Hockey combines both a handicap/spread and odds. This is called the puck line.
sample line:
Boston +1 (-110)
Detroit -1.5 (-110)
The favorites are the Detroit Red Wings, who are giving the Boston Bruins 1.5 goals. To win the bet, Detroit would have to win the game by 2 goals. When placing this bet you are getting even money, which means that for every 110 you wager, you will win 100. If you are betting on Boston, you will receive a 1.0 goal handicap, meaning that if Detroit wins by 1 goal the game is a push. If the game ends in a tie or Boston wins, then you win the bet. The odds again are at -110.

Push
If the result of a game lands exactly on the pointspread or is a tie in the case of betting a moneyline, or if the exact score of the game matches exactly the sportsbook's posted game total (Total), then the game is a "Push" or "No Action" and all wagers are normally released.

Round Robin
A form of parlay betting in which we wager various combining team wagers. A three-team robin is team 1 to 2, 1 to 3, and 2 to 3. A four-team robin is team 1 to 2, 1 to 3, 1 to 4, 2 to 3, 2 to 4, and 3 to 4. Five-team, etc.

Run Line
A line used when wagering on baseball.

Side
When one side of a wager wins and the other side ties.

Slip
A typical receipt of a wager or wagers placed at a land-based sportsbook.

Steam
When a betting line starts to move quite rapidly. Most 'steam games' do not necessarily reflect the 'right side', but are games that the mass of bettors somehow decide to key on.

Streak
A consecutive string - usually at least several - of winning bets.

SU
'Straight up' refers to a team or player's history (or record) against an opponent regardless of odds or being favorite / underdog. Example: the Bears are a mere 4-12 against the spread in their last 16 off a SU win.

Taking
Wagering on the underdog; taking the odds.

Totals
Total combined point/runs/goals scored in a game; In baseball, if either of the two listed starting pitchers don't go the distance, the bet is automatically canceled.

Under
A bet that the total combined score for two teams will fall below a posted total.

Value
Getting the best odds on a betting proposition; the highest possible edge.

Vig
The house's commission on a wager. Formally known as 'vigorish'.

Wager
Any bet.
Bet on sports at one of the internet's leading sports betting sites.
Advertisement