The Las Vegas Strip At Night
Night time is an excellent opportunity to take in the sights of the strip. Read about casinos, the scene, and other bits in the second part of our walking tour.

Article Highlights:
Playing Blackjack At The Veneitan | Playing Slots At The Mirage | Caesar's Palace | Bellagio

The Cosmopolitan | Paris & Planet Hollywood | Back To The Monte Carlo


Playing Blackjack At The Venetian
The casino floor of the Venetian was brightly lit and very elegant. It was a wednesday night, and the place was full of people. So much for the Vegas downturn, I thought. At the gaming conference, I had the chance to talk with some of the local executives, and they stated that things were definitely picking up since the bottom of the recession - which is good news for a town that was hit pretty hard during those times. Despite some ups and downs, reports from the major gaming companies seem to be backing up that consensus as Las Vegas strip revenue has picked up some in recent times.
So I found myself in my eighth or ninth casino (depending on whether you count the Venetian twice). I found a seat at a 15 dollar blackjack table. There was one other guy at the table with a stunning looking lady who was just watching. I laid down a few hundred dollar bills and jumped into the action. The only problem was... the dealer was getting blackjack after blackjack. We couldn't catch a break. Within about ten minutes, I watched the poor guy at my table give up $300, get another $100 out of his pocket, and lose that too. Such were the brakes, I thought. I had to pick the table with a hot dealer. Actually, she was a lovely looking Asian lady, but that's another story. It made losing a little easier... service with a smile. Normally I don't stand for losing, so I decided to pack it in. After my fellow player left, my luck took a complete one-eighty. I was down $200, and proceeded to win six out of the next seven hands, tying once, and doubling up every other hand. By the time I won the last one, I was back to even, and that was good enough for me. I had two miles to walk back to my room and still another three or four casinos to check out.


The Mirage
Again, good sense told me to hail a cab and get back to the Monte Carlo so I could get a bite to eat, but I was only in town for five days, and right in the heart of the strip! Why not keep the tour going? I went upstairs past Tao nightclub, which seemed fairly quiet - no half naked women sitting in milk-filled bath tubs tonight - probably because it was a wednesday. I took the moving walkway over the Rialto bridge that crosses Las Vegas Boulevard, and that put me right in front of the Mirage. I bypassed TI (Treasure Island) because I'd stayed there on a previous vacation and already knew what it was all about. Plus, going that way would've required a small amount of backtracking, and I still had a ways to go.
I'd been inside the Mirage on previous trips, but only to go to JET (later re-branded as 1 OAK Las Vegas), the resort's main nightclub. I was curious about Steve Wynn's original property, which opened back in 1989, so I took the short walk from the sidewalk on into the casino. What I found was a surprisingly hip, dimly lit casino with plenty of inviting restaurants and lounges. I bookmarked this as another potential property for a stay, and the Mirage website shows they are keeping up-to-date with room decor. Their blackjack tables had mostly high minimums and were crowded, so once again I headed to the slots. For the next hour and a half, I battled it out with a dozen or more quarter and dollar machines, and was just not having any luck. I probably gave up somewhere between $150-$200, which bought me a couple bottles of water and some more rewards points on my Mlife card. Time was moving along so I set back out on the strip. I passed the hotel's gourmet burger restaurant on the way out, and am still wondering why I didn't just stop in, but I kept telling myself I needed the exercise, and decided to keep moving.


Caesar's Palace
Heading south, Caesar's Palace was right next door, a massive complex taking up the better part of its block. The casino entrance wasn't too far off the strip, and in all my trips to Las Vegas, I'd never been there, so it became my next stop. Brightly lit and luxuriously appointed, the Caesar's Palace casino was very busy. Once again, I scouted blackjack tables to no avail, played a few slots, and walked from one end of the resort to the other. Upon leaving I hastened my pace because the walking tour was starting to seem like it was going on forever.


Bellagio

Being right in the heart of the strip, I had some great sight lines of the neon and lights at night. Since the entrance to the Bellagio was set back a good ways from the sidewalk - possibly to reinforce the resort's exclusivity, and due to the size of the enormous lake that sits in front - I decided to skip it and just have a look at the fountains if they happened to start up while I was passing by. Surely enough, they started up and the water show spectacular began only a couple seconds after I snapped my photo. I would've taken another, but a swarm of tourists swooped in as soon as the show started. I thought the show was nicely done aside from the patriotic music that blasted throughout. I'm all for honoring one's country, but the music was blaring and it seemed more suited to a holiday fireworks display. Why not play some graceful operatic number? I think they switch up the soundtrack periodically.





The Cosmopolitan
I passed by the Cosmopolitan, a chic and inviting new resort that is sandwiched between the Bellagio and City Center. Being a very narrow property, it went right up to the sidewalk on the strip. while walking by, I was trying to figure out how a resort that size could cost 1.2 billion dollars more than the Wynn. Then I remembered that it did have 53 floors, including a condo tower, and we were talking about 2010 middle-of-recession construction dollars versus 2005 pre-recession dollars. I'm sure Vegas Strip real estate prices went up since then as well. However, the Wynn still seemed like a comparative bargain considering its luxury and expansiveness. I bookmarked the Cosmopolitan for a future stay, sheerly due to its mystique and proximity to other casinos. Also, being one of the newer resorts on the strip, I'm sure it has plenty of modern amenities.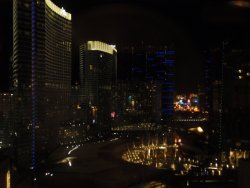 At last, I was almost to the City Center - which, itself, occupies a huge amount of strip real estate. While visually stunning, the exterior of the property doesn't have much to offer night time strip walkers. Catering mainly to upmarket visitors is perhaps their aim. Much of the action at City Center is set back a good distance from the strip, centering around the Aria resort and casino. You don't have to take a taxi to get there. It is just quite a walk from any point on the sidewalk along the strip. (I truly feel for the ladies in four and five inch stilettos.) For passers-by, City Center offers the Crystals shopping center, which is home to a sizable collection of high-end retailers, a couple cafes and one or two nightclubs. The main entrance is right on the strip, however the restaurants and nightclubs are located at the back of the mall closer to Aria.


Paris And Planet Hollywood
Passing Bellagio and then City Center, I had a nice shot of Paris and Planet Hollywood all lit up at night. The neon hot air balloon in front of Paris with its dark blue glow is probably one of my favorite signs.
By this time, my feet were getting tired, so I was happy to see that I was almost back to my hotel. Working behind a desk most days, and despite being in decent shape, I was really not used to walking this much.



Heading Back To The Monte Carlo
Towards the end of my journey, I was thinking there aren't many major cities in the United States that I'd feel comfortable walking down the street at 1:00 am with $1500 in my pocket, but in Las Vegas it didn't seem like a big deal. Along my trek, I passed scores of finely-dressed people going from one casino to the next, and no one looked liked they were out to cause any trouble. I also didn't linger much so perhaps that helped. Finally, I made it back to the Monte Carlo, easily racking up a good five or six miles or more on my shoes that day. I bypassed the 24 hour restaurants and the blackjack tables, and headed straight for my room. It was as full a day as I needed, and I still had two days to go.

Las Vegas:
<< previous article | Main Page | next article: City Center and Aria Resort >>