Why Playing Online Beats The Real Thing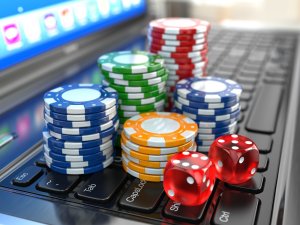 People have been gambling for thousands of years. Even though it may have not always been the same games, the principle have always been the same. You bet some money to get a chance of winning even more money back. It was not until casino games started coming around that gambling really became famous as a recreational activity that everyone could enjoy. The online casino industry has been around about twenty years and is more popular today then ever before. So how come so many people choose to play at online casinos instead of real land based casinos?

Article Highlights:
Stay In And Have A Great Time | Open 24 Hours | Bonuses Galore | Jackpots

Stay In And Have A Great Time
Instead of having to iron a shirt and polish your shoes to swagger into a physical casino, you can stay in the comforts of your own home. You can easily wear your lucky t-shirt and sit barefoot curled up in your favourite chair - no one is going to judge your appearances or deny you entry.  Instead of spending money on cocktails and parking you can mix your favourite drink and get a speedy refill whenever you desire. There is no cuing for sitting down at a table and no rude or obnoxious people to divert your attention. Instead you are chilling at home with your favourite games and having a good old time. If you feel like being social there are plenty of live games you can join where you can chat to the dealer and others at the table.

Open 24 Hours All Year Round
The online casino is never closed. Be it early Sunday morning or some other odd time, your favourite casino is always open and welcoming you as a customer. This also means you can take your casino with you on the go. You never have to have another boring wait as long as you have an Internet connection. You can have fun killing time on a long bus ride, when you are stuck in a traffic, or just waiting for your turn at the hairdresser's.

Bonuses Galore
When you walk into a casino and you buy chips for €100 and you will get chips for €100 - no more no less. One advantage to playing online is most casinos offer great bonuses. It could be a sign-up bonus  - the first time you register - or a welcome back bonus if you have not been playing for a while. Bonus offers come with most holidays and other big seasonal events. If you deposit €100 you will most often get €150 or more to play with. The thrifty player shops around for the best casino bonus online.

Jackpots
To hit the jackpot is what most people dream of. The online casinos have numerous progressive jackpots that increase in value the more players play on them, until one lucky person hits it and cashes in big time. If you don't think that you can be the winner of a huge progressive jackpot, think again. People from all walks of life are frequently winning huge sums. All you need is a bit of luck on your side.
With these great advantages it is easy to see why online casinos are increasing in popularity. And while the casino sites are polishing their product to be able to deliver better and more entertaining experiences for their customers, things could even get better in the future!

Try a leading online casino with an excellent variety of slots games.
Advertisement