Home > Casino > Blackjack Strategy Chart (Single Deck)

Blackjack Single Deck Basic Strategy Chart
The following charts display the recommended course of action for players based upon millions of hands of blackjack simulated by advanced computer programs. Playing according to this strategy will theoretically yield a maximised advantage for players and is generally considered superior to various other methods such as guessing and playing on hunches, especially over long periods of play. If starting out as a beginner, it may seem like a lot to grasp, but will become second nature the more one plays.

Page Highlights:
Player's Hard Hand Chart | Player's Soft Hand Chart | Player's Pair Chart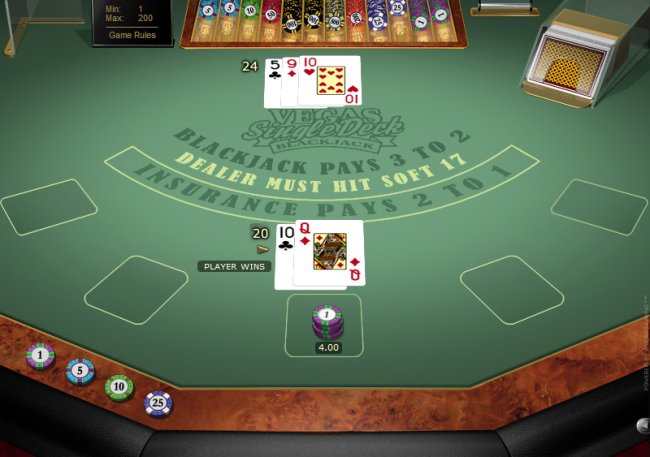 Picture Courtesy: Wild Jack Casino
Single deck blackjack offers some of the best odds available for casino players. If mastered fully, the game can yield a close-to-zero house advantage.

| | |
| --- | --- |
| Player's Hard Hand | Action Based On Dealer's Up Card |
| 8 | Double 5, 6; Hit everything else. |
| 9 | Double 2-6; Hit everything else. |
| 10 | Double 2-9; Hit everything else. |
| 11 | Always double. |
| 12 | Stand 4, 5, 6; Hit everything else. |
| 13 | Stand 2-6; Hit everything else. |
| 14 | Stand 2-6; Hit everything else. |
| 15 | Stand 2-6; Hit everything else. |
| 16 | Stand 2-6; Hit everything else. |
| 17, 18, 19, 20, 21 | Always stand. |
| | |
| --- | --- |
| Player's Soft Hand | Action Based On Dealer's Up Card |
| A:2 | Double 4, 5, 6; Hit everything else. |
| A:3 | Double 4, 5, 6; Hit everything else. |
| A:4 | Double 4, 5, 6; Hit everything else. |
| A:5 | Double 4, 5, 6; Hit everything else. |
| A:6 | Double 2-6; Hit everything else. |
| A:7 | Double 3-6; Stand 2, 7, 8, Ace; Hit 9 and 10. |
| A:8 | Double 6; Stand everything else. |
| A:9 | Always stand. |
| | |
| --- | --- |
| Player's Pair | Action Based On Dealer's Up Card |
| A:A | Always split. |
| 2:2 | Split 3-7; Hit everything else. |
| 3:3 | Split 4-7; Hit everything else. |
| 4:4 | Double 5 and 6; Hit everything else. |
| 5:5 | Double 2-9; Hit everything else. |
| 6:6 | Split 2-6; Hit everything else. |
| 7:7 | Split 2-7; Hit 8, 9, Ace; Stand on 10. |
| 8:8 | Always split. |
| 9:9 | Split 2-6, 8, 9; Stand 7, 10, Ace. |
| 10:10 | Always stand. |

Play blackjack at one of the internet's leading casinos.
Advertisement